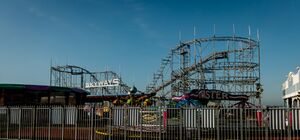 The Galaxi (sometimes called "Galaxy") was a mass-produced portable roller coaster model primarily manufactured by Italian company SDC, who ceased operations in 1993. The design was first produced in the 1970s, and over fifty copies have been produced since.[1]
Although Galaxi roller coasters are no longer produced, many manufacturers have continued to produce similar or identical products. Many Galaxi roller coasters still operate at amusement parks and as traveling attractions.
Design
The Galaxi was designed to be transportable.
There were two sizes of Galaxi roller coaster. The larger one had a 900 degree helix at one end and a 540 degree helix at the other. The smaller has a lift hill which passes diagonally across the ride.
The ride is similar in design to the Zyklon, manufactured by the now defunct Pinfari, also Italian.
Trains
Single cars. Riders are arranged 2 across in 2 rows, for a total of 4 riders per car. On many Galaxi roller coasters, the trains had a triangular shaped badge on their front.
In popular culture
In the Season 4 CSI episode "Turn of the Screws",a Galaxi coaster is the main subject of the investigation. A sabotaged train with five riders derailed and landed in a nearby carpark, killing the passengers and revealing the body of a park employee hidden in the trunk of a car.[2] The roller coaster used for filming was Screaming Mummy at Pharao's Lost Kingdom.[3]
Installations
Due to the large number of Galaxi coasters produced, and how difficult it is to track them, this list may be inaccurate.
Name
Park
Location
Opened
Status
Bavarian Beetle
Formerly Galaxi
Kings Island
Coney Island

Cincinnati, Ohio, USA
Kings Mills, Ohio, USA
1972
1970
Closed 1979
Closed 1971
Cyclone
Queens Park
Long Beach, California, USA
1969
Closed 1979
Galaxi
Adventureland
Farmingdale, New York, USA
1973
Closed 1990
Galaxi
Barry Island Pleasure Park
UK
1974
Closed 1983
Galaxi
Indiana Beach
Monticello, Indiana, USA
1971
Closed 2013
Galaxi
Kings Dominion
Doswell, Virginia, USA
1975
Closed 1983
Galaxi
Myrtle Beach Pavilion
Myrtle Beach, South Carolina, USA
Unknown
1975
Closed 1997
Closed 1983
Galaxi
Novosibirsk Central Park
Russia
Unknown
Operating
Galaxi
Formerly Galaxi
Joyland Amusement Park
White Swan Park

Coraopolis, Pennsylvania, USA
Lubbock, Texas, USA
Unknown
1972
Operating
Closed 1989
Galaxi
Pirate's Fun Park
Salisbury, Massachusetts, USA
Closed
Galaxi
Funtown Splashtown U.S.A.
Saco, Maine, USA
1978
Closed 2008
Galaxi
Formerly Galaxy Orbit
Palace Playland
Peony Park

Omaha, Nebraska, USA
Old Orchard Beach, Maine, USA
1994
1972
Closed September 4, 2017
Closed 1993
Galaxi
Cliff's Amusement Park
Albuquerque, New Mexico, USA
1976
Operating
Galaxi
Formerly Galaxi
Sylvan Beach Amusement Park
Fun Forest Amusement Park

Seattle, Washington, USA
Sylvan Beach, New York, USA
1993
1974
Operating
Closed 1992
Galaxi
Riverview Park & Waterworld
Wisconsin Dells, Wisconsin, USA
Closed 2007
Galaxi
Santa's Village AZoosment Park
Dundee, Illinois, USA
1987
Closed 1996
Galaxi
Formerly Galaxi
Formerly Galaxi
Dixie Landin' Family Theme Park
Fun Fair Park
Pontchartrain Beach

Baton Rouge, Louisiana, USA
New Orleans, Louisiana, USA
Baton Rouge, Louisiana, USA
2001
1978
Unknown
Operating
Closed 1999
Closed 1997
Galaxi
Sauzer's Kiddieland
Schererville, Indiana, USA
1970
Closed 1995
Galaxi
Formerly Galaxi
Paragon Park
HemisFair '68

San Antonio, Texas, USA
Hull, Massachusetts, USA
1969
1968
Closed 1985
Closed 1968
Galaxi
Crystal Beach
Crystal Beach, Ontario, Canada
1984
Closed 1984
Galaxi
Luna Park
Ankara, Ankara, Turkey
1980s
Operating
Galaxi 2000
Hassans Nöjesfältet
Åhus, Skåne, Sweden
1985
Closed 2006
Galaxy
Fantasilandia
Santiago, Santiago, Chile
1978
Closed 2012
Galaxy
Formerly Galaxy
Loudoun Castle
Codona's Amusement Park

UK
UK
1999
1978
Closed 2002
Closed 1998
Galaxy
Parque Ítalo Americano
Caracas, Capital District, Venezuela
1981
Closed 2010
Galaxy 500
Formerly 1970 Galaxy Rip Tide Coaster
Formerly Screaming Mummy
Formerly Super Screamer
Hydro Adventures
Miracle Strip Pier Park
Pharo's Adventure Park
Adventureland

Panama City Beach, Florida, USA
Redlands, California, USA
Altoona, Iowa, USA
Poplar Bluff, Missouri, USA
July 7, 2016
2014
2000
1976
Operating
Closed 2015
Closed 2006
Closed 1999
Grand Huit
Europark
Vias, Languedoc-Roussillon, France
2005
Closed 2006
Himalaya
Parc d'Attractions d'Alger
Algeria, Alger, Algeria
2006
Closed 2014
Horská Dráha
Lunapark
Prague, Czech Republic
1973
Operating
Infernal Toboggan
Travelling
France
Operating
Mark 1
Formerly Mark 1
Travelling
Travelling

USA
Mexico
1970s
Operating
Metropolis
Luna Park
Melbourne, Victoria, Australia
Unknown
Closed 2012
Moncayo
Parque de Atracciones de Zaragoza
Zaragoza, Zaragoza, Spain
2002
Operating
Montagna
Magic Park
Thessaloniki, Macedonia, Greece
2001
Operating
Montagne Russe
Parc Sindibad
Casablanca, Grand Casablanca, Morocco
2000 - 2001
Closed 2000 - 2007
Montaña Rusa
Felicilandia
Chile
Unknown
Operating
Montana Rusa
Juegos del Parque Rodó
Montevideo, Montevideo, Uruguay
2006
Closed 2013
Mont Blank
Edenlandia
Naples, Campania, Italy
Closed 2001
Nightmare Mine
Frontier City
Oklahoma City, Oklahoma, USA
1980
Closed 2000
Nightmare Mine
Formerly Galaxi
Frontier City
Fun Junction

Grand Junction, Colorado, USA
Oklahoma City, Oklahoma, USA
2000
Unknown
Closed 2000
Closed 1999
Olympic Bobsled
Travelling
USA
Unknown
Operating
Ottovolante
Greenland
Limbiate, Lombardy, Italy
Unknown
SBNO since 2005 or earlier
RipTide
Deggeller Attractions
Travelling
Unknown
Operating
Rockin' Rider
Canobie Lake Park
Salem, New Hampshire, USA
1970
Closed 2004
Roller Coaster
Eram Park
Tehran, Tehran, Iran
2000 or earlier
Closed 2015
Serpent
Formerly Sperpent
Formerly Galaxi
Kokomo's Family Fun Center
LeSourdsville Lake Amusement Park
Nobles Funland Amusement Park

Middletown, Ohio, USA
Paducah, Kentucky, USA
Saginaw, Michigan, USA
2009
1989
1987
Operating
Closed 2002
Closed 1988
Skyways
Clarence Pier
Portsmouth, Hampshire, England, UK
1980
Closed 2017
Taipan
Formerly Thrillseeker
Travelling
Sea World

Surfers Paradise, Queensland, Australia
Australia
Unknown
1982
Operating
Closed May 2002
unknown
Mirapolis
Cergy-Pointoise, Ile-de-France, France
1989
Closed 1991
References